Maui wildfire death toll, already highest in modern U.S. history, could surge
[ad_1]

"The death toll number is always provisional, in a way," Goldman said. "I assume people won't stop trying to find remains and the work will take a very, very long time."
Identifying victims
Of the scores killed, only nine victims were identified as of Thursday, Maui County officials said.
To help speed up identification, the FBI announced Friday the opening of a site where people could provide DNA samples that would then be matched with the remains that have already been found.
Forensic anthropologists may use dental records and fingerprints to help confirm a person's identity. But in Lahaina, where dental offices were burned down and where the fire was so severe it incinerated cars and melted metal, traditional methods may not apply in each case.
"For individuals who die in mass fatalities from burning or an explosion, it can fragment the body, and very high temperatures can break down the DNA molecules, so it makes the identification process more difficult," said Robert Mann, a forensic anthropologist and medical professor at the University of Hawaii, who is assisting in Maui.
But it's not impossible, he said.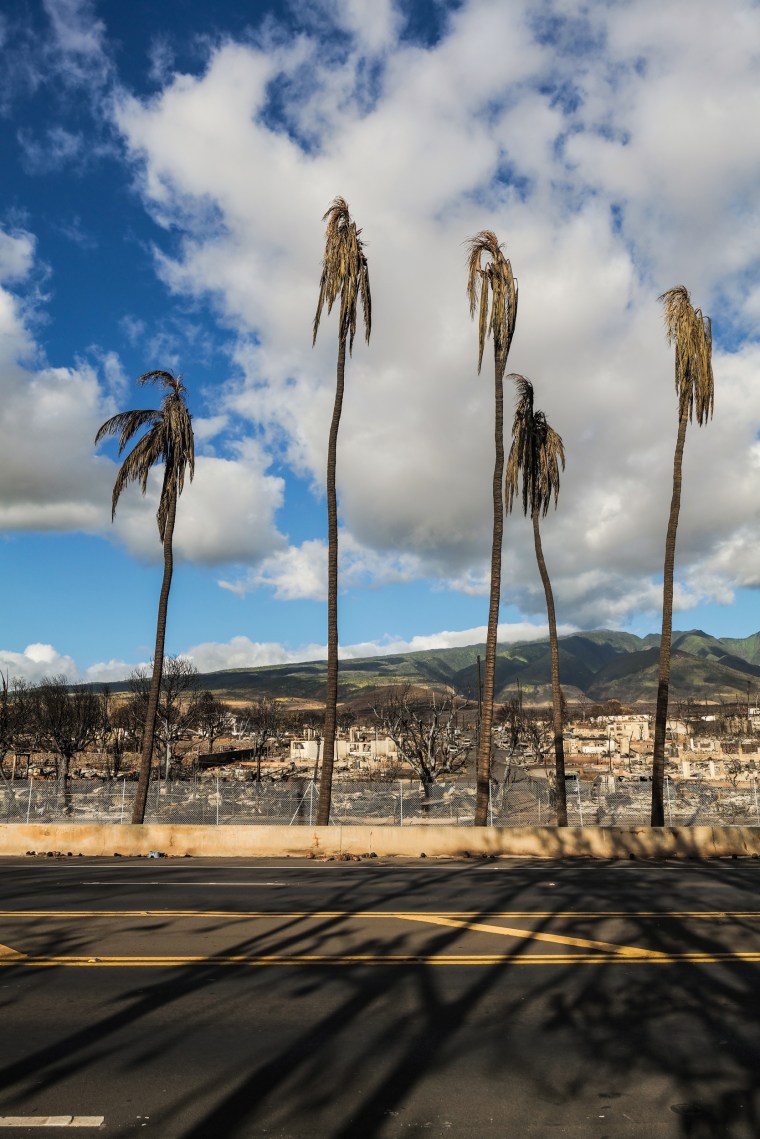 "You can make an identification from one bone or one tooth," he said. "That one bone holds DNA in it."
Maui officials are also turning to rapid DNA-testing machines, which were used in the 2018 Camp Fire in Northern California, a monstrous blaze that claimed 85 lives. DNA-testing devices were used more recently to help identify the remains of soldiers killed in the war in Ukraine.
A spokesperson for rapid DNA-testing company ANDE Corp. said it had dispatched a disaster-response team to assist in Hawaii. The company's instrument creates a unique DNA profile for the human remains, and while that can be done within a couple of hours, awaiting a matching DNA sample, such as a cheek swab from a direct family member — a parent, child or sibling — is what often delays the procedure.
The wildfires in Maui led to entire families going missing and feared dead. Some victims may have no known direct family members, while others may be international travelers or from outside Hawaii, and so direct family members may not be available to provide a DNA sample easily. In addition, there may be people who are wary of sharing their DNA, no matter the circumstances.
ANDE, the rapid DNA-testing company, said it retains the DNA sample only for purposes of finding and confirming an identity match. The FBI's Honolulu Field Office said the agency would not keep samples.
Ultimately, confirming identities as soon as possible means a victim's family can receive a death certificate and move forward with funeral arrangements, insurance claims and other estate matters.
"Something people wonder about is how long is this all going to take," Mann said. "There's no crystal ball to answer the how long question."
Determining a death toll
Puerto Rico's government initially placed the death toll from Hurricane Maria at 64 people.
But that number didn't tell the full magnitude of the powerful storm that unleashed devastation and flash flooding on the island and decimated its power grid. The George Washington University report in 2018 found an estimated 2,975 excess deaths in the six months after the disaster, when people presumably succumbed to a lack of adequate medical care and other causes indirectly related to the hurricane.
The same may hold true in Maui.
"You may see indirect deaths — people who die not because they were exposed to the fires but because of the conditions caused by the disaster," Goldman said.
Further classifying causes of death will be time-consuming. Some people may never be found if they perished in the flames, officials warned.
"For those people who have walked into Lahaina because they really wanted to see, know that they're very likely walking on 'iwi,'" Hawaii Gov. Josh Green said at a news conference this week, referring to the Hawaiian word for bones.
[ad_2]

Source link