Casey DeSantis gets candid on cancer battle, role as Florida first lady: 'It isn't about me'
[ad_1]

Florida first lady Casey DeSantis got candid with Fox News' Harris Faulkner during an exclusive sit-down interview, Tuesday, discussing everything from her work as first lady to her breast cancer journey and family life in politics ahead of 2024. 
The latest installment of Faulkner's "Family in Focus" series took Fox News to the governor's mansion in Tallahassee, Florida, where the host asked DeSantis what defined her as the first lady of the Sunshine State.
"I think one who looks at the role with a lot of humility," Casey said. "It isn't about me. It is about being in a position to be able to do good on behalf of the people of this state and hopefully of this country."
NBC REPORTER GETTING 'BULLIED' BY MEDIA FOR FETTERMAN REPORT WAS 'PATHETIC,' 'WRONG,' SAY INSIDERS
DeSantis, who hopes to be the next U.S. first lady, is an Ohio native who graduated from the College of Charleston with a Bachelor of Science in economics as well as a minor in French. Before her husband's election in as governor 2018, DeSantis enjoyed a career as a television host, reporter and anchor.
The pair married in 2010 and share three children together.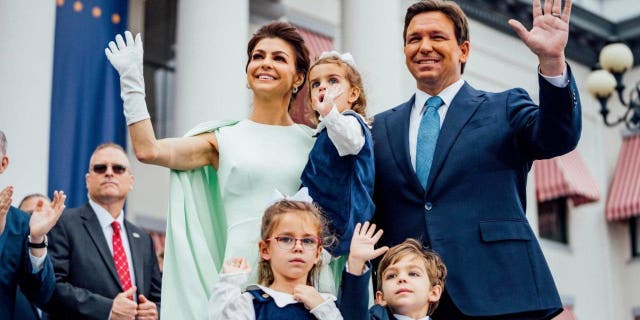 Since becoming the first lady in 2019, she has expanded her work to help others through Hope for Healing Florida in order to provide financial assistance, resources and other tools to struggling families, troubled youth and veterans. 
"We've been able to transition off either partly or entirely more than 8,100 people from government assistance because they're on a pathway to economic self-sufficiency," Casey said. 
NBC REPORTER CLASHES WITH DESANTIS OVER ABORTION POLICY: 'NO INDICATION' DEMS SUPPORT INFANTICIDE
"They're now in homes on their own. They're cooking for their children literally in tears, because this is the first time that they have a roof over their home, over their house that they've been able to get on their own," she continued. 
DeSantis recalled the harrowing cancer battle she experienced after being diagnosed in 2021. She commended her husband for being a "shoulder to cry on" during the devastating journey. 
"The day that I ultimately found out it was Ron who was the one that told me because I couldn't listen to the doctors, I didn't want to hear any of the opining," Casey said. "I didn't know if I was going to see my kids graduate from kindergarten, let alone going off into high school or watching them walk down the aisle, so I had him every step of the way there as a shoulder to cry on."
But it was Ron who praised her for her strength during her treacherous journey to overcome the crippling health scare. 
"I did my role as what a good husband should do, but she really fought hard," the governor said. "And I'll tell you, once we went public with it, the amount of prayers that we got from Florida and around the country really, really boosted her spirit and my spirit."
Since her diagnosis, she prioritized funding for cancer research to help Floridians battling similar challenges across the state. 
She was declared cancer-free in 2022. 
Ron DeSantis will be center stage Wednesday night in the first GOP primary debate of the 2024 campaign, hosted by Fox News in Milwaukee, Wisconsin at 9 p.m. ET.
Fox News' Brian Flood contributed to this report. 
For more Culture, Media, Education, Opinion, and channel coverage, visit foxnews.com/media
[ad_2]

Source link