Burning Man lifts lockdown, says 'exodus' from muddy venue is underway
[ad_1]

Organizers lifted a virtual lockdown for the annual Burning Man festival Monday, allowing attendees' annual "exodus" to begin after a weekend of rain and mud isolated the Nevada desert venue.
Monday is traditionally the day most people leave the weeklong celebration of countercultural music and arts, but this year the green light for departure unlocked a venue beset by impassable roads, muddy tents, and a more than 5-mile hike to get out following heavy rains.
Sgt. Nathan Carmichael of the Pershing County Sheriff's Office said he didn't believe a significant number of patrons would stay for the customary end-of-event burning in effigy, given their isolation in rain and mud for a weekend of what was supposed to be a major party.
"There's a very large line of people trying to leave right now," he said.
One death was reported by authorities Saturday, but by Monday the person's identity and cause of death were unavailable.
Organizers on Monday said roughly 64,000 people remained at the venue.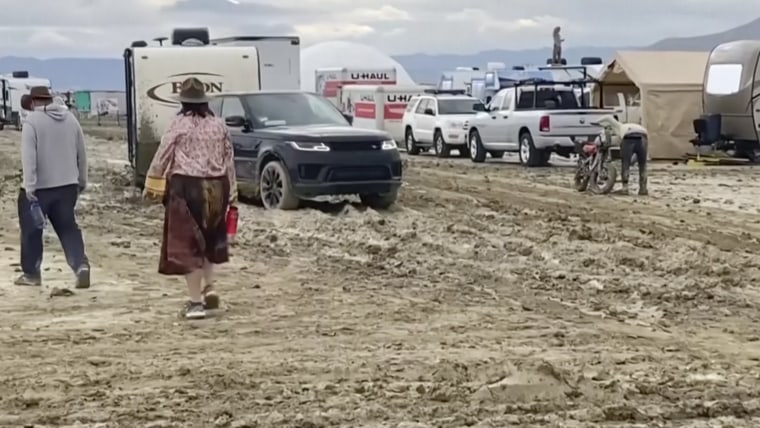 The 3,900-acre event on ancient, dry lakebed that's part of the federally protected Black Rock Desert near the town of Gerlach, had rarely faced such a challenge, and organizers urged patrons to conserve food and water and wait for mud to dry out.
On Monday, organizers said the ban on vehicles leaving was lifted, so RVs can get out, but they said anyone trying to leave on foot should get a ride, and they have people who will help.
They said the party's annual burning in effigy of a 40-foot man, which usually happens on the last Saturday of the event, will happen Monday night about 9.
They also said some attendees might want to watch the show and stay overnight to alleviate crowds that might form as people try to leave Monday.
[ad_2]

Source link