An Artist's Homage to the Founder of the Nation – Haroon Shuaib – Youlin Magazine
[ad_1]

Written by: Haroon Shuaib
Posted on: August 17, 2023 |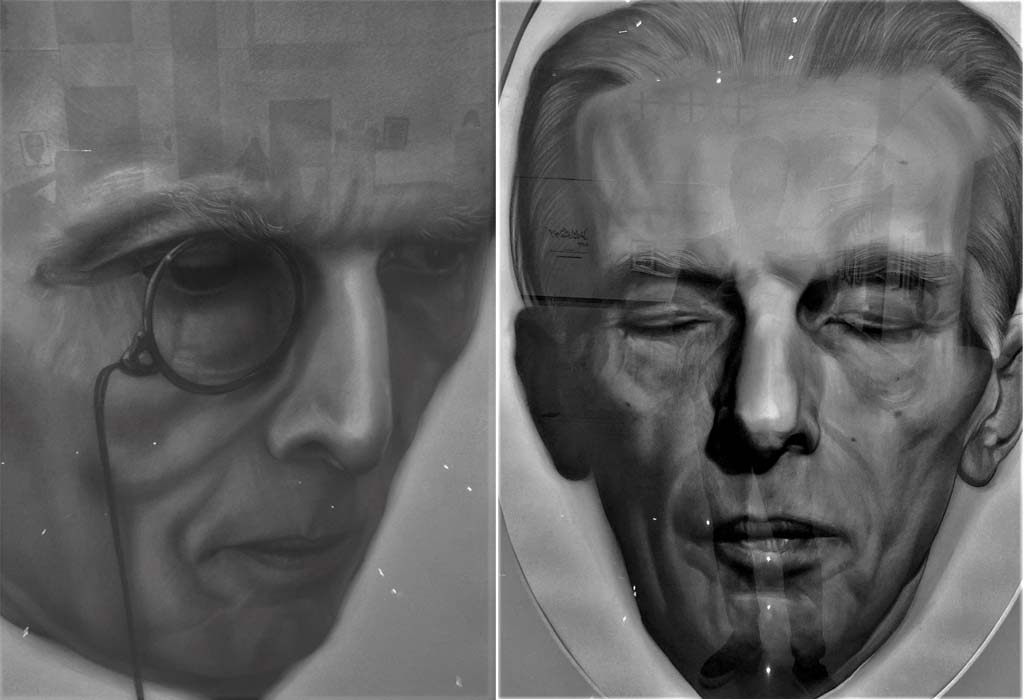 Ali Azmat is well known amongst the art circle and art aficionados of the country as a skillful figurative artist. Having widely displayed his work in the country and abroad in various solo and group shows, Azmat is known for his large-scale paintings embedded in a signature sensibility that reminds one of the likes of Colin David and Iqbal Hussain. An alumnus of the Fine Arts Department of the University of the Punjab, he is currently working as an Assistant Professor at his alma mater. His current exhibition, inaugurated on the Independence Day by the President of Pakistan Dr. Arif Alvi and his wife Mrs. Samina Arif Alvi, is clearly a departure from Azmat's signature figures of everyday people composed in empty spaces with blunt social commentary. Comprising of over two dozen portraits of the Quaid-e-Azam, Azmat's mediums of choice for this exhibition are acrylics and compressed charcoal.

A collaboration between ForArtsSake and the Pakistan National Council of Art (PNCA), this exhibition of Azmat's work done in the past two-years, is a collection of portraits of the father of the nation, Quaid-e-Azam Mohammad Ali Jinnah. Poignantly titled, 'Haq tou ye hay kay haq ada na hoa', (Could not live up to your expectations), a tagline borrowed form a verse of Mirza Ghalib, the greatest poet of Urdu language, it not only alludes to the artists' own humility but more importantly, underscores a need for introspection by the nation to realize it's failings in following the vision of the great leader. According to Azmat, 'Our generation inherited the love for our leader, and I believe it is our responsibility to pass this love with the same intensity and passion to the upcoming generations, because living nations never forget their benefactors. The affection displayed in these paintings not only expresses my love for our leader, but also serves as a humble effort to keep this love alive in the hearts of future generations. As for how successful my efforts have been, I leave that judgement to the observers. To be honest, I feel that we can never truly repay our debt to our leader's kindness.' Azmat is the recipient of a 'National Excellence Award' by Pakistan National Council of the Arts in 2003, 'Award of Excellence' given by Artist's Association of the Pakistan in 2003 and 2012.

The award-winning artist hails from the city of Sufi saints, Multan, and moved to Lahore to pursue his education in art. Growing up, he had always seen his father, Zafar Ali, wearing Jinnah cap, a testimony to his parent's love for the father of the nation. Azmat believes that he inherited his love for Quaid-e-Azam Mohammad Ali Jinnah from his own father, who was a clockmaker in Multan. Azmat has three school going daughters: Ada, Kaif and Bia. A heartwarming display of the three young progenies' rudimentary drawings of Quaid's visage outside the main exhibition area, is a reassuring testament of the reverence for Quaid-e-Azam Mohammad Ali Jinnah that continues to pass on from generation to generation of Pakistanis.

Azmat has also used symbolism very cleverly in this exhibition. As soon as one enters the gallery, one sees a few slightly tilted frames with Quaid's portraits. The visitor feels the urge to impulsively straighten them, only to realizes that it is actually intentional and a statement in itself. The metaphor slowly sinks in, and the observer is left with the question that why the same urge to correct things around does not manifest itself in our everyday behavior.

In one sub-set of two acrylic frames, Azmat uses another jape to convey a message. In the first frame we see a beautiful familiar visage of Quaid-e-Azam Mohammad Ali Jinnah with his signature cap and a bouquet of fresh red roses in the foreground, while in the other, we see that the façade has disappeared with just the cap and a bouquet of wilted roses left in the frame.

"The photographic images of Quaid available in print and in digital spaces are very few and generally of very low resolution. An artist must add his own interpretation while painting his portraits. I had taken on the challenge to use large canvases to make these portraits, some about six feet tall," Azmat says. One cannot help but notice that most of Azmat's work depicts Quaid with a softness, rarely captured by other portrait artists who painted him previously. In a few canvases, one can actually see Quaid smiling. In some the glare in Quaid's eyes seems to be penetrating into the spectators' soul, and holding them accountable.

Amna I. Pataudi and Dr. Rahat Naveed Masud, the force behind ForArtsSake and the curators of the exhibition said, "We have curated this show on a pertinent and relevant subject in the presently challenging times. Ali Azmat alludes to the glaring reality that Pakistan faces today. – that of straying tragically away from the Quaid's envisioned state of Pakistan. Azmat is an accomplished artist and in recent years has impressed the audience with his large-scale compressed charcoal drawings. He has a dexterous hand and has often highlighted the malaise of the society."

The curators have also displayed some very ingeniously selected extracts from the Quaid's speeches with each set of portraits on display. "Each portrait and the expression on Quaid-e-Azam Mohammad Ali Jinnah's face that Azmat has captured through his art, had a deeper meaning and spoke to us. As curators, when we were selecting which quote from his speeches will go with which portrait, the expression that Azmat captured through his art was guiding us," Amna said in the statement.

Highlighting the significance of the artist's work against the current social and political milieu in the country, the first lady said, "I am confident that even with small initiatives like this exhibition, we can influence our future to realign, and be more in harmony with what the Quaid envisioned."

'Haq tou ye hay kay haq ada na hoa', is open for public till August 20, 2023 at the PNCA Islamabad, after that the artist and the curator plan to take it to Gilgit and exhibit at the Karakoram International University, and subsequently in other cities across the country. The final exhibition will be held in Karachi in December this year, to coincide with the birthday celebrations of Quaid-e-Azam Mohammad Ali Jinnah.



[ad_2]

Source link