Aima Baig has arrived | The Express Tribune
[ad_1]

After 'Funkari', singer is set to come out with 'Chapter 1' of her life and music

KARACHI:

There is a pleasant surprise in knowing someone you've been passively but regularly listening to in your attempt to rediscover Pakistani music – with and by fellow Gen-Zs – has in fact, been discovering themselves in their creations. "The new kids", as veterans like to call them, are doing something right, and it's not difficult to pin down what exactly. They are taking music for what it is; not a means to an end but a means to a beginning. And Aima Baig is one of them.
"I love my language by the way. If anyone asks me what my favourite language is, I'll say Urdu. But I grew up listening to the likes of ABBA and Elvis, thanks to my mother. One of my first memories of her include me sitting in my baby chair and watching her groove to ABBAs Mamma Mia while cooking. That triggered my love for music," Aima shared in a conversation with The Express Tribune.
The Baazi singer would lock herself in her room, put on karaoke, and sing. One day, her mother overheard her and decided to give her talent shot. "I asked her if she would like me to sing for her. She approved and loved every bit of it. I was six. That's how my journey started." Aima's mother passed away in 2017 after fighting cancer for six years. "She was my biggest cheerleader. Her confidence in me inspired me to do more. During her last days, she would be in her hospital bed praying for me because she always feared I'd lag behind since I was a shy kid," revealed the artist.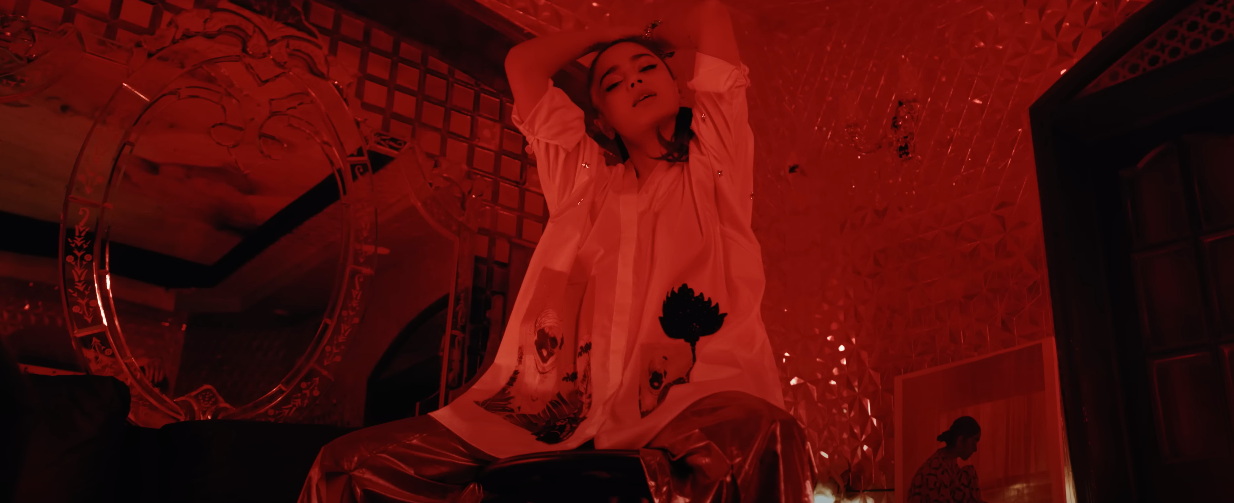 Aima recently came out with Funkari, a song written and composed by Shiraz Uppal and co-written by Irfan Saleem. She offers a new version of herself in the track to a world that loves to hate her. By embracing her dark side, she eventually calls checkmate. And despite its undertones, Funkari is peppy and quite hip. But the best is yet to come. "It was nerve wrecking because I have done some great work with the best composers and songwriters during my 6-year career in music and hence, the expectations have always been high. But this [Funkari] was the first time that I was going to be in a song that was… me, for the most part. So, I was holding back. But now that it's finally out, I'm at ease," she stated.
From covers to OSTs to playback singing to Coke Studio, it seems like Aima has done it all. What she hasn't done is put out singles that she could call her own. But she's well on her way to changing that. "I feel like people put a limit on my talent because I am so much more versatile. I can sing classical amongst other things. I don't think I was myself when I was doing Baazi or Malang or even Washmallay. I had to put a lot of work into those songs as they were in different languages and I only did them because they were great compositions despite being super commercial. I think I was just too scared to come out and be my true self. I don't want to depict a character anymore, and so, the album I'm working on now is super versatile and features all genres."

Aima maintained that after a few "incidents" in her life she stopped reading through reactions to her work. But with Funkari, she mustered up the courage to go through her socials. "This was my first solo outing and I actually did go through comments. It's so sad that we are hardwired to seek out negativity so I scrolled and scrolled, trying to find something negative. But all I saw was love. I feel more comfortable around people now because of that."
Having been focused on collaborations all these years, while also working with brands on and off, Aima became too co-dependent. But if there's one thing she has learnt during her six years in the industry is that "this isn't school anymore."
"I've learnt that because you're not answerable to anyone else for not doing your homework, you tend to lack discipline. Working with brands has helped me a lot but as you grow up, you realize no one will take care of you. I am the only one who has to make my music and interact with my fanbase. So, I have started working on these songs. Funkari had no brand involved because working with brands often makes you lose a certain degree of creative control, as well as your identity. I feel like this is a new identity that I have introduced to people which is unapologetically myself. And people are going to be shocked when they hear my album, my chapter."

About her upcoming album, Aima detailed that it will be called Chapter 1 because it will introduce people to a new chapter in her life. "Lyrically all the songs will be connected to each other. There's going to be a lot of personal baggage in it and it's the first time my fans will be hearing about it from me," she quipped. As for what inspired her to finally come out of her cocoon, Aima said, "I was just going through my catalogue after a shoot and going through some unreleased songs. Mind you, I feel I'm a better listener than a singer. So, I thought to myself, if I can enjoy these songs, why wouldn't people enjoy them?"
From ghazals to hip hop, the singer holds that Chapter 1 will have everything. "They'll see me busting moves, they'll see me rap. I can't wait to show people who I really am."
When asked to elaborate on how her online image clouds the judgement of her listeners, Aima noted, "If you're famous, people know when you get your nails done, your nose done, your lips done. My only problem with people is that they are too judgmental with the little information they have. They will base judgements on what they see or hear without inquiring a matter completely. If someone already has a negative opinion of me, what if they like my song? This is a question that they can answer. But this new chapter of mine, I'm hoping, is going to change that. I know if such people even have a 10-minute conversation with me, they will have a different opinion. But I'll sing instead."

About her biggest struggle as a female artist in Pakistani, Aima delved, "I've never been vocal about problems I've faced while starting my career in the industry. I'm not very comfortable speaking about it. There are always people who try to make you uncomfortable. I have never been harassed physically but again; harassment does not have to be physical. There are many ways people can harass and assault you. I've been there. But I was lucky enough to eventually find the right people."
Aima's Chapter 1 has seven songs so far. "I intend to write more. I don't think these chapters will end before I die. I'll probably make a pre death chapter right before dying. In it, I'll maybe write from the POV of a dead person. Who knows?"
Listen to Funkari here:
Have something to add to the story? Share it in the comments below.


[ad_2]

Source link